More than 300 students attend one of three academies—Limon, Mandarina, and Lima. These academies are safe havens where children ages 4-15 experience the love of Jesus through holistic life-skills training.
Bright and cheerfully painted, the academies are filled with light, hope, and laughter. Kids can be kids here, while being taught an alternative to gang life and experiencing high standards of academic excellence.
Students grow intellectually as they are educated. They grow socially as they play with their friends. They grow physically as they are fed, clothed, taught proper hygiene, and receive vitamins. And they grow spiritually as they are loved, valued, and taught the way of Jesus.
More than twenty local Guatemalans—a majority of whom are from La Limonada—are employed by the academies as teachers, assistant teachers, cooks, and custodians. All of them have devoted their lives to unconditionally love the children entrusted to their care.
Through Child Sponsorship you can support these academies, making our holistic approach possible.
Through Teacher Sponsorship you can help to provide a fair wage for the teachers and staff members who have given their lives to serve the children of La Limonada.
You can also partner with us to make quality education a reality for the children of La Limonada by investing in the academies.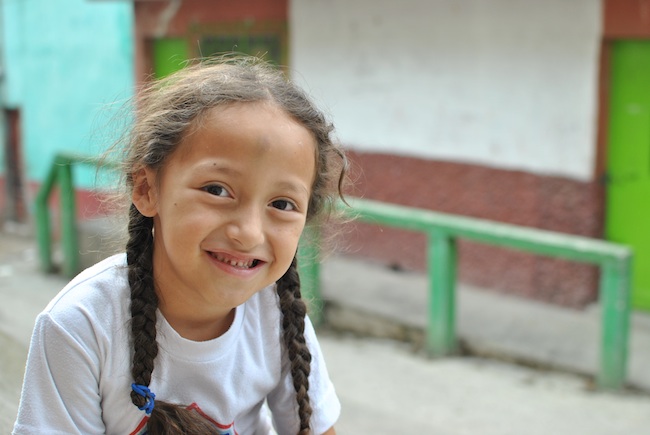 Allison Fernanda is an energetic six-year-old from La Limonada who attends the Limon Academy. She constantly has a smile on her face and will run to greet anyone who walks through her classroom door. She loves going to the academy because within its walls she has learned to love others and share her life with her friends.
Thanks to our scholarship program, she attends formal school in the mornings then she attends the Limon Academy in the afternoons.
The academy provides a warm meal and vitamins, and each day a loving teacher awaits her arrival. She is one of 17 children between the ages of six and seven in her afternoon class. Maria, her teacher, provides the class with holistic education, teaching everything from math to Bible to hygiene.
Allison is the oldest of three children and a daughter to a single mom. "God is our Daddy," she says when asked who he is.
Allison says that although she learns in her formal school, she prefers attending the Limon Academy because there is more friendship and it is better than other places she knows. "I like to pay attention in class. When I grow up I'd like to be a veterinarian or a photographer. I'd like to help my family, too. It's nice because my best friends live in La Limonada and they attend the Limon Academy too."
Without an opportunity to be educated and mentored, the children of La Limonada are often neglected and abused. By their teen years the boys are lured into gangs and the girls become pregnant without the means to care for a baby. Through sponsorship, children like Allison are provided with an education and hope for a better life through God's love.
You can make a difference by sponsoring a child like Allison today.