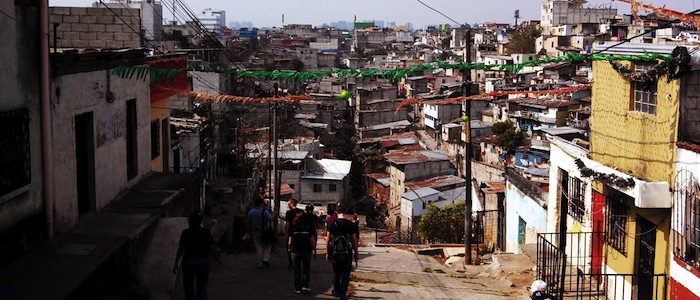 The 2013 Bloggers Trip is coming to an end and we want to express our gratitude to this group of special people who have invested in the La Limonada community. Their time, hearts, words and photos have helped to convey the stories of La Limonada in a way that we have never experienced in such a short time.
Thank you Tim, Katie, Scott, Dana, Chris, Blake and Mackenzie! Our words cannot express the gratitude we have for you.
See posts from the rest of the Bloggers Trip: Day 1, Day 2, Day 2 [PHOTOS], Day 3 [PHOTOS]
Katie Hoiland: Day 3: Following Upward
…we witnessed a historical milestone in the community of La Limonada. A significant meeting where presidents of the various neighborhoods making up La Limonada gathered at the invitation of Tita and a small group of university students in a one of the academies which served as a neutral location. Why would this be historical you may ask? The moment you step foot in this barrio, you sense the tension created between the ongoing neighborhood rivalries. These boundaries are distinctly marked by young guys protectively 'hanging' around. With dull looks in their eyes like they just sniffed some glue to mask both their hunger and pain, they watch everyone who passes very carefully while preventing many to come close. These were peace talks.
Dana Byers: La Limonada: History in the Making
I've experienced being called by God to a specific region before. There have been times in life where God's clearly shown our family something to do or a place to go. It's clear God's not called our family to live and serve in Guatemala, but we love this country and its people. Because God has not led us to be on the front lines of the incredible work Lemonade International is doing, our family is committing to provide financial support to this organization. I really shouldn't call it an organization, in fact, because it's a sea of committed people whose hearts we love.
Paul Burkhart: "Strong like Lemonade….and sweet." [Guatemala, Day 3]
Tonight is my last night in Guatemala. By the time this is posted and most of you read this, I will be on a plane (or, more likely, waiting in an airport), on my way back home.

The past couple of posts this week have been a little intense. The way I received and processed those first few days was definitely through the filter of brokenness and pain. And this was definitely appropriate. There were so many stories of poverty, violence, abuse, economic exploitation, injustice, paedophilia, and rape that I simply could not tell.
Tim Høiland: Crossing the line (Guatemala, Day 3)
For many years, La Limonada has been divided into eleven distinct colonias, or neighborhoods. Lemonade International's two academies are in Lourdes I and Lourdes II, respectively. Other colonias have names like Lomas del Edén (Hills of Eden), El Esfuerzo (The Effort), Buena Vista (Good View), 15 de Agosto (August 15), and 5 de Octubre (October 5).

There are decades-old stories behind these names, and the lines of demarcation between colonias, while not visible on any map or to any outsider's eye, are for that reason no less real.
Photo Credit: Scott Bennett